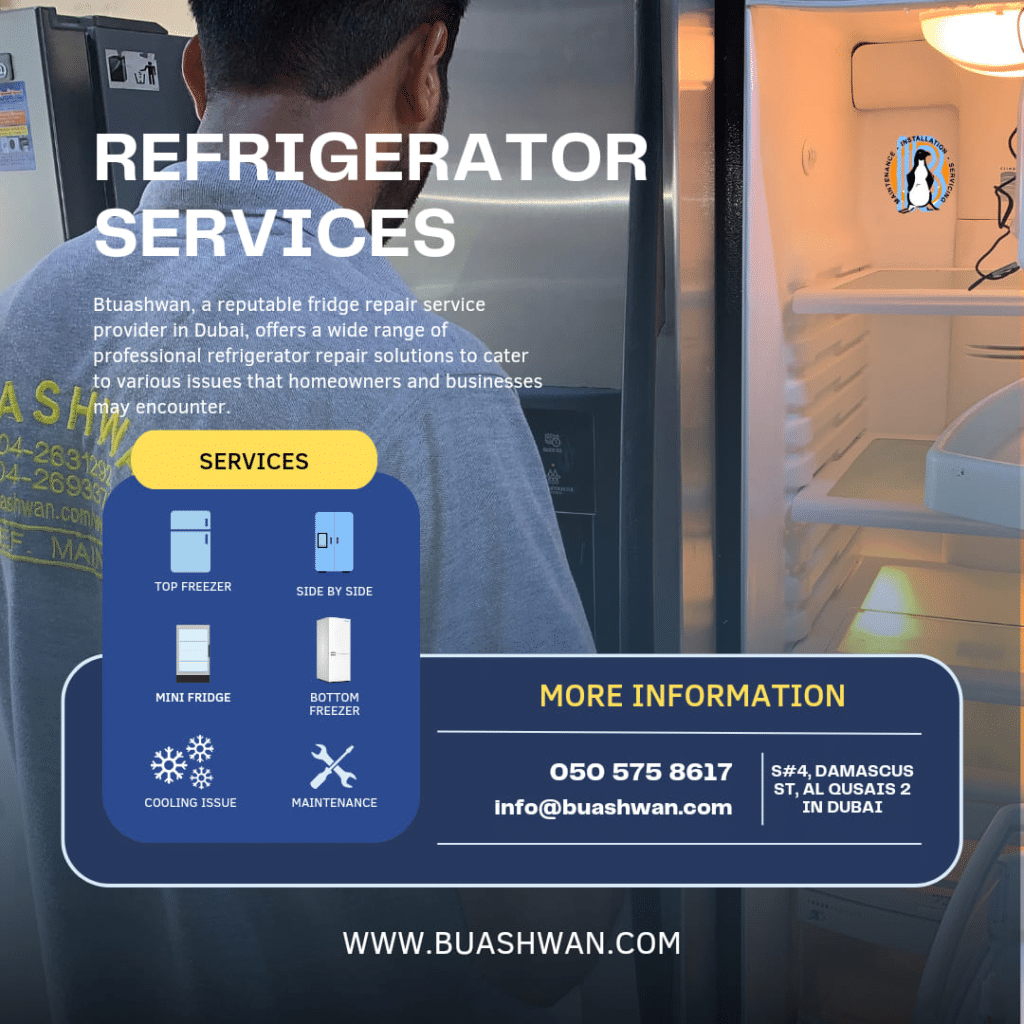 Looking for Refrigerator Repair Services near me, or Fridge Repair Services near me: Buashwan has 22+ years of experience and offers reasonable price
Expert Fridge Repair in Dubai: Fast, Affordable & Reliable Services – Call Now!
When your refrigerator encounters issues, it can disrupt your daily routine and compromise the freshness of your stored food. Buashwan, a trusted name in appliance repair in Dubai, offers a comprehensive range of fridge repair services to address various problems that may arise. In this article, we'll explore the different types of fridge repair in dubai services provided by Buashwan, highlighting their commitment to excellence and customer satisfaction.
1. Diagnosing Refrigerator Issues in Dubai
Buashwan's skilled technicians are equipped to diagnose a wide range of fridge problems, including:
Temperature Fluctuations: Inconsistent cooling can lead to premature spoilage of food.
Leakage: Water pooling inside or outside the fridge can indicate a malfunction.
Noisy Operation: Unusual sounds may point to a faulty compressor or motor.
Frost Buildup: Excessive frost can hinder proper cooling and energy efficiency.
2. Fridge Compressor and Cooling System Repairs in Dubai
Buashwan specializes in repairing the critical components responsible for cooling and maintaining optimal fridge temperature, including:
Fridge Compressor Repairs in Dubai: Addressing issues with the compressor to restore efficient cooling.
Fridge Evaporator and Condenser Coil Cleaning in Dubai: Improving heat exchange for better cooling performance.
fridge Thermostat Calibration in Dubai: Ensuring accurate temperature regulation to prevent food spoilage.
3. Refrigerant Recharge and Leak Detection in Dubai
Maintaining the correct refrigerant levels is essential for efficient cooling. Buashwan offers:
Refrigerant Recharge: Ensuring proper refrigerant levels for consistent cooling performance.
Leak Detection: Identifying and repairing refrigerant leaks to prevent further damage.
4. Fridge Electrical Repairs and Component Replacement
Buashwan's technicians are adept at addressing various electrical issues and replacing malfunctioning components, including:
Defective Wiring: Identifying and repairing faulty wiring that can disrupt fridge operation.
Replacing Faulty Thermostats: Ensuring accurate temperature control within the fridge.
Motor and Fan Repairs: Fixing issues with the motor or fan that affect cooling efficiency.
5. Fridge Hinge Repairs
Buashwan pays attention to door-related problems to maintain proper sealing and insulation:
Hinge Alignment: Adjusting hinges to ensure proper door closure and alignment.
6. Emergency Fridge Repairs in Dubai
Buashwan understands the urgency of fridge breakdowns and offers:
Availability: Open on weekend for emergency fridge repair in dubai..
Prompt Response: Quick deployment of technicians to address urgent issues.
Buashwan's fridge repair services in Dubai encompass a wide spectrum of solutions to ensure your appliance's optimal performance. From diagnosing issues to addressing critical components and providing emergency repairs, Buashwan's expert technicians bring their skills to your doorstep. With a focus on reliability, professionalism, and customer satisfaction, Buashwan is the go-to choice for anyone seeking expert fridge repair services in Dubai.
Emergency Fridge Repair Services in Dubai - Available
When it comes to repairing your fridge in Dubai, there are several companies to choose from. However, Buashwan stands out as one of the best options for fridge repair in the city. Here are some reasons why you should choose Buashwan for your fridge repair needs in Dubai:
Experienced and Knowledgeable Technicians: Buashwan has a team of highly skilled technicians who are experienced in repairing and servicing all types of refrigerators. They are trained to work with all major brands and models, and they stay up-to-date with the latest industry standards and practices.
Transparent Pricing: Buashwan offers transparent pricing for all their fridge repair services in Dubai. They will provide you with a clear quote for the repair work required, with no hidden fees or charges. This ensures that you know exactly what you're paying for and can make an informed decision.
Best Parts: Buashwan only uses best parts for all fridge repairs. They understand that using quality parts is essential to ensure the longevity and reliability of your refrigerator.
100% Satisfaction Guarantee: Buashwan is committed to providing its customers with the highest quality service. They offer a 100% satisfaction guarantee on all their fridge repair services in Dubai, which means that if you're not completely satisfied with their work, they will do everything possible to make it right.
Prompt and Reliable Service: Buashwan understands the importance of having a functioning fridge in your home. That's why they offer fast and reliable fridge repair services in Dubai. They strive to complete all repairs as quickly as possible without compromising on the quality of their work.
Availability: Buashwan offers fridge repair services in Dubai. They understand that fridge breakdowns can occur at any time, so they're available to provide their services whenever you need them.
Buashwan is an excellent choice for fridge repair in Dubai. They have experienced and knowledgeable technicians, transparent pricing, genuine parts, a 100% satisfaction guarantee, prompt and reliable service, and availability in Dubai. So, if you're looking for high-quality fridge repair services in Dubai, look no further than Buashwan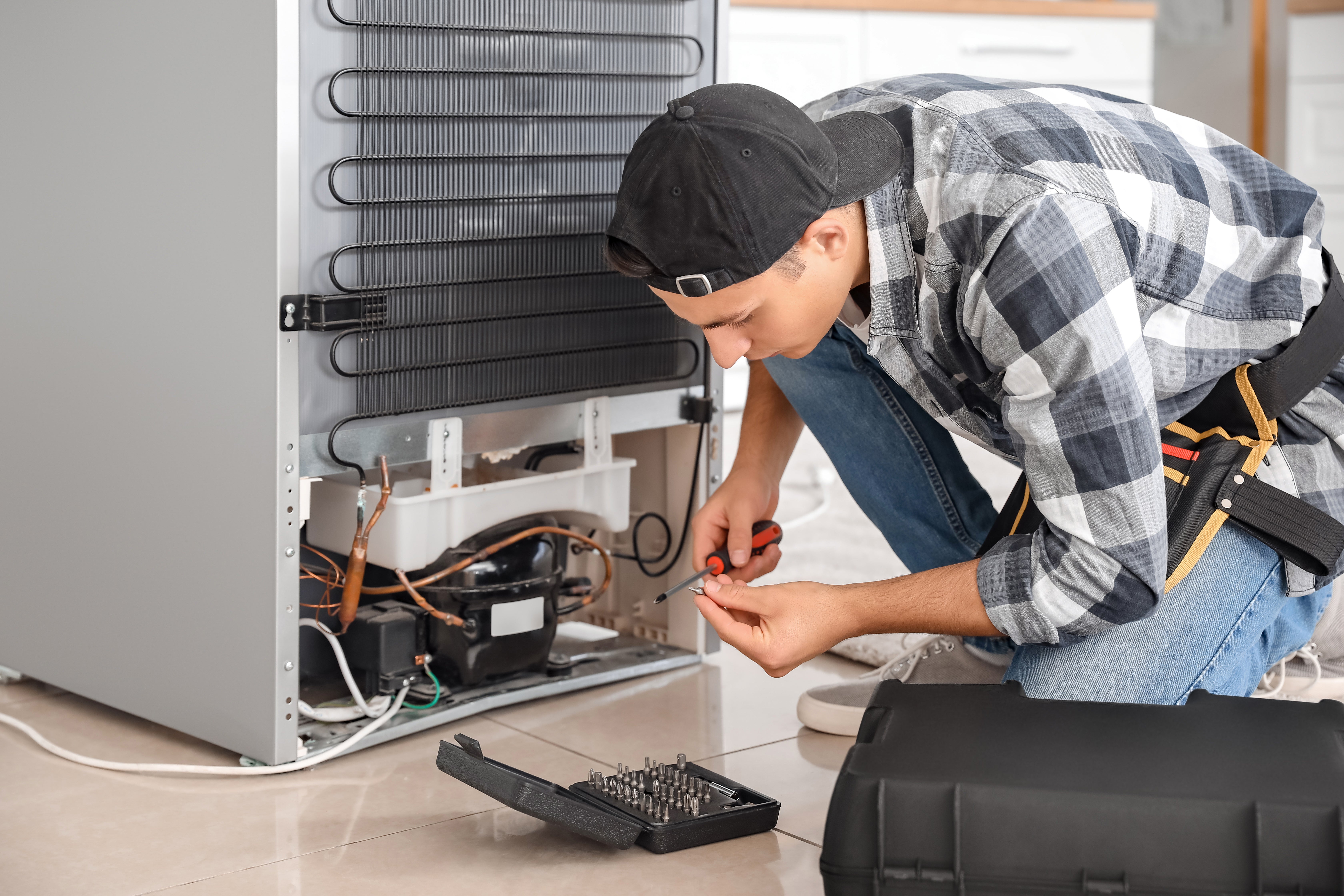 Buashwan is a reputable fridge repair company in Dubai that provides repair services for a variety of fridge brands. Some of the fridge brands that Buashwan repairs in Dubai include:
Samsung Fridge Repair in Dubai
LG Refrigerator Repair in Dubai
Haier Fridge Repair in Dubai
Bosch Refrigerator Repair in Dubai
Siemens Fridge Repair in Dubai
Whirlpool Refrigerator Repair in Dubai
Daewoo Fridge Repair in Dubai
Indesit Refrigerator Repair in Dubai
Electrolux Fridge Repair in Dubai
Frigidaire Refrigerator Repair in Dubai
Kenmore Fridge Repair in Dubai
Maytag Fridge Repair in Dubai
GE (General Electric) Refrigerator Repair in Dubai
Sharp Fridge Repair in Dubai
Panasonic Fridge Repair in Dubai
Buashwan's team of highly skilled and experienced technicians are equipped to handle all types of fridge repair jobs for these and other leading brands in the market. They use only genuine parts and offer transparent pricing to ensure that your fridge is repaired to the highest quality and standards. If you have any questions about whether your fridge brand can be repaired by Buashwan, don't hesitate to reach out to their customer service team for assistance.
Book our #1 New Old Fridge Repair Fixing at +971 55 668 8453  with 22+ years of experience.
Dubai's Leading Fridge Repair Company – Trusted by Thousands
Downtown Dubai
Dubai Marina
Jumeirah
Business Bay
The Palm Jumeirah
Emirates Hills
Dubai Silicon Oasis
Al Barsha
Jumeirah Beach Residence (JBR)
Dubai Sports City
Dubai Investment Park
Arabian Ranches
Dubai International Financial Centre (DIFC)
Dubai Festival City
Al Furjan
Dubai Production City
Dubai Hills Estate
Discovery Gardens
Motor City
The Greens and The Views.
Testimonials
Hammad Amjad
I repaired my fridge from here. Their services are very good and fast. Mr. Usman is very professional and nice man. Highly recommend
Alfie Read
Buashwan repair is the good service of dishwasher repair. I had to make when my dishwasher is damaged. I called Buashwan service was most knowledgeable. Thank you for amazing service.
Grayson Jack
Fabulous service and professionalism. Technician helped me fix my washer dryer. He was very knowledgeable and answered all my questions. Will definitely use Buashwan services again in future.
Call us to get a free quote now