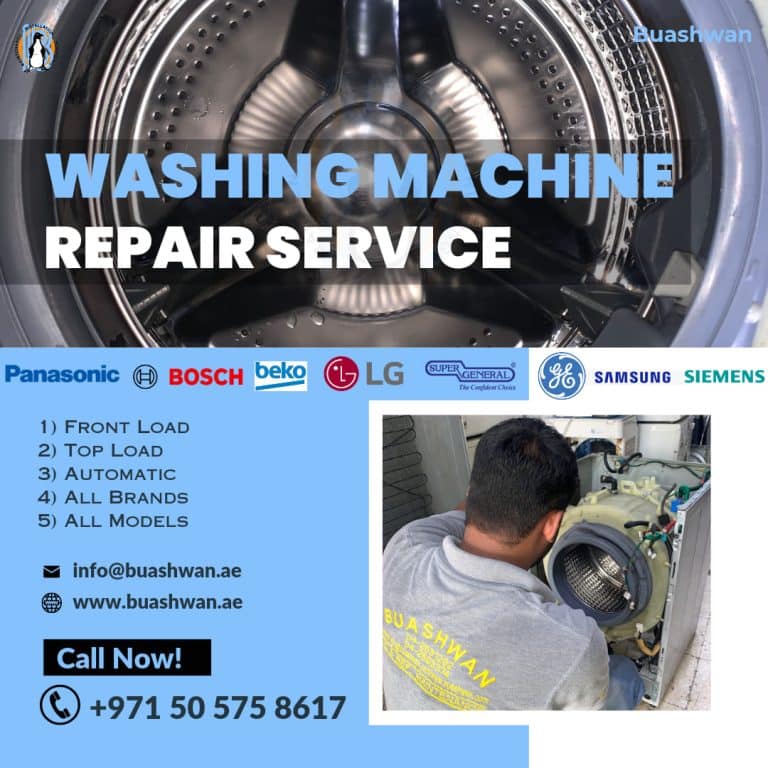 When it comes to modern-day convenience, washing machines have revolutionized the way we handle laundry. In a bustling city like Downtown Dubai, where time is of the essence, a malfunctioning washing machine can be a major inconvenience. That's where Buashwan comes to the rescue! With years of experience and a team of skilled technicians, Buashwan offers top-notch washing machine repair services to residents and businesses in Downtown Dubai.
Why Choose for Washing Machine Repair Downtown?
Expert Technicians: Our team comprises highly skilled and certified technicians with in-depth knowledge of various washing machine brands and models. Whether you own a top-load, front-load, or even a high-tech smart washing machine, our experts can diagnose and fix any issue promptly. Expert technicians washing machine repair in downtown dubai.
Prompt Response: We understand the urgency of a broken washing machine, which is why we prioritize quick response times. When you reach out to Buashwan, we'll schedule a service appointment at your earliest convenience, often on the same day.
Common Washing Machine Problems We Fix
Drum not spinning or agitating: If your washing machine's drum refuses to spin or agitate, it could be due to a faulty motor, belt, or transmission. Our technicians will accurately diagnose the issue and provide an effective solution. Spining Washing Machine Repair Downtown Dubai.
Water leakage: Water leakage can lead to property damage and pose safety hazards. We will inspect your washing machine thoroughly, identify the source of the leak, and perform the necessary repairs.
Excessive noise or vibrations: Unusual noises or vibrations during operation can be signs of misaligned drums, worn-out bearings, or loose components. Our experts will troubleshoot the problem and restore your washing machine's smooth operation. Noise Washing Machine Repair Downtwon Dubai.
Failure to drain properly: If your washing machine is not draining water as it should, it could be due to a clogged pump or a faulty drain hose. We'll unclog the pump or replace the hose, ensuring proper drainage. Drain Washing Machine Repair Downtown Dubai.
Electrical issues: Problems like tripped circuits or faulty wiring can disrupt your washing machine's performance. Our technicians are well-versed in electrical diagnostics and will resolve the issue safely.
Service Process for Washing Machine Repair Downtown Dubai
Request a Service: Get in touch with Buashwan through our website or contact number to request a washing machine repair service. Provide details about the issue, brand, and model of your appliance. Get Expert Washing Machine Repair Downtown Dubai.
Diagnosis and Estimate: Our technicians will visit your location at the scheduled time, inspect the washing machine, and provide you with a detailed diagnosis and cost estimate for the repairs.
Professional Repairs: Upon your approval, our experts will proceed with the repairs using genuine spare parts. We strive to complete most repairs on-site, ensuring minimal disruption to your daily routine. Professional Washing Machine Repair Downtown Dubai.
Testing and Quality Check: After the repairs, we conduct rigorous testing to ensure your washing machine is functioning optimally and meets our quality standards.
Customer Satisfaction: At Buashwan, customer satisfaction is our priority. We'll ensure you're pleased with the repairs and answer any questions you may have. Get best washing machine repair in downtown dubai.
Buashwan's washing machine repair service in Downtown Dubai offers a reliable and efficient solution to all your washing machine woes. With skilled technicians, genuine spare parts, and a commitment to customer satisfaction, Buashwan stands out as a trusted partner for washing machine repairs in the heart of Dubai. Don't let a malfunctioning washing machine disrupt your routine – contact Buashwan today for expert assistance!
Washing Machine Service in Downtown Dubai
Buashwan is your go-to solution for washing machine service in the heart of Dubai's bustling downtown. With a team of highly skilled technicians and years of experience, Buashwan offers top-notch repair and maintenance services for all types and brands of washing machines. Whether it's a minor glitch or a major breakdown, Buashwan is committed to providing quick, reliable, and cost-effective solutions to keep your laundry routine running smoothly. Latest Washing Machine Repair Downtown Dubai.
Expert Technicians for Efficient Repairs
Buashwan takes pride in its team of expert technicians who are well-versed in dealing with a wide range of washing machine issues. From simple problems like water leakage or unusual noises to more complex electrical or mechanical faults, their skilled professionals can quickly diagnose the problem and provide efficient solutions. With their extensive knowledge and access to cutting-edge tools, they ensure that your washing machine is up and running in no time. Expert Technicians for Efficient Washing Machine Repair Downtown Dubai.
Comprehensive Maintenance Services
Preventive maintenance is the key to extending the lifespan of your washing machine and reducing the risk of sudden breakdowns. Buashwan offers comprehensive maintenance services that include thorough inspections, cleaning, and tune-ups. Regular maintenance not only ensures the smooth functioning of your appliance but also helps identify potential problems early on, saving you from costly repairs down the road. Comprehensive Washing machine maintenance service downtown dubai.
Prompt and Reliable Service
In the fast-paced environment of Downtown Dubai, time is of the essence. Buashwan understands the urgency of getting your washing machine back in working condition promptly. Their team is committed to providing timely and reliable service, with flexible scheduling options to accommodate your busy lifestyle. Whether you need a same-day repair or prefer to book an appointment at your convenience, Buashwan is there to assist you.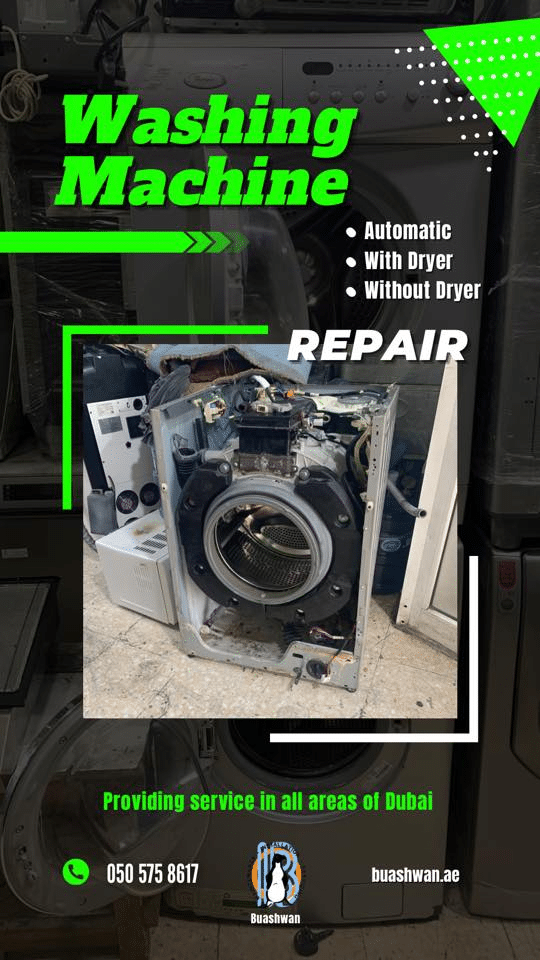 Buashwan is a trusted name in washing machine service in Downtown Dubai, known for its professionalism, expertise, and dedication to customer satisfaction. So, if you're facing any issues with your washing machine, don't hesitate to reach out to Buashwan for swift and reliable assistance. Rest assured, your appliance will be in good hands, and you'll have your laundry routine back on track in no time.
LG WASHING MACHINE REPAIR DOWNTOWN DUBAI
SAMSUNG WASHING MACHINE REPAIR DOWNTOWN DUBAI
SIEMENS WASHING MACHINE REPAIR DOWNTOWN DUBAI
AFTRON WASHING MACHINE REPAIR DOWNTOWN DUBAI
NIKAI WASHING MACHINE REPAIR IN DOWNTOWN DUBAI
BOSCH WASHING MACHINE REPAIR IN DOWNTOWN DUBAI
BEKO WASHING MACHINE REPAIR IN DOWNTOWN DUBAI
ELECTROLUX WASHING MACHINE REPAIR IN DOWNTOWN DUBAI
HISENSE WASHING MACHINE REPAIR IN DOWNTOWN DUBAI